The Ubuntu stacked logo
For exceptional circumstances, e.g. hardware stickers, a stacked version of the logo has been created.
Consistent use of the Ubuntu logo is essential in creating a united brand identity. The main logo is supplied as artwork and should never be altered, distorted or re-created in any way.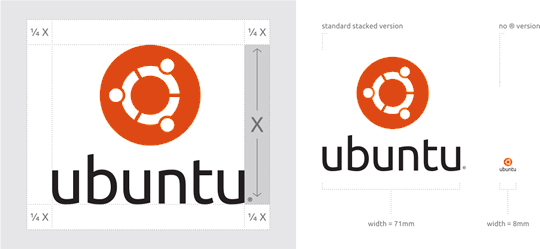 Defining the exclusion zone
The stacked Ubuntu logo must always have a clear area surrounding it, free from any other element.
To define this area, measure the height of the roundel and use a quarter of this measure to create the boundary of clear space around the logo.
Minimum size
Standard stacked version
The standard version of the logo must never be used at a width less than 71mm, as shown above.
No ® version
Below the width of 71mm, the no registered trademark version must be used. It must never be used at a width less than 8mm.