Logo elements

Wordmark
Logotype created using our unique, custom designed font. With each letter carefully spaced for the correct feel and maximum legibility. The preferred use of the word mark is white typography on a flat aubergine-coloured background.
Canonical Circle
A crafted graphic symbol that represents: adroitness, accessibility, precision and reliability.
Trademark ™
The Canonical word and associated logos are Trademarks. When using the Canonical logo, please include the ™, unless the size or location of the logo or reference makes this impossible or detrimental to the look and feel, in which case you should identify the logo as a Canonical ™ by stating in an appropriate and obvious place "Canonical is a trademark of Canonical Ltd."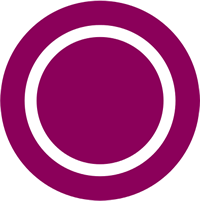 The Canonical Circle
The Canonical logo is made up of the Canonical wordmark and the Canonical symbol. This symbol is called the 'Canonical Circle'.
It has been carefully drawn for precision and added clarity.